Buddhist, Hindu, Muslim, Christian.. the excuse for a celebration doesn't depend on creed or belief system here at Shikshan Gram.. a holy day – or special day of any sort simply means 'let's have a party'!  and the really beautiful thing about having a party here is it is all so easy to organise.  Let have some special food.. the addition of delicious Kari.. see it here cooking away.. made the dinner just wonderful..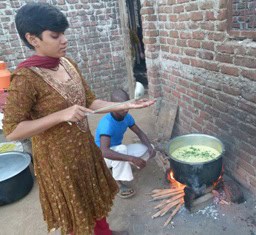 Or it certainly seems that way.. as there are so many willing hands to move into action.  And of course having a great loud speaker PA system that a kind donor gave to us makes partying just that much better!   Music makes the world go around and just play a few bars here and everyone is up and rocking!
The children are amazing – they are so talented – and so willing to get up and share their gifts – we had classical Indian dancing – we had Bollywood, we had movie star take-off dance by Lakhan – who is 5! we had a reading of a story of Shivaji – it went on and on and the clapping and cheering shook the valley.
Finally after all the individual performances where done it was time to really rock the place – and the music went on and on and we all danced and jumped and laughed and cheered and celebrated Christmas!  Next week it will be New Year and then someone's birthday and then who knows.. but the PA system will come out again soon for sure and we will leap and jump and clap and enjoy all over again.
And for those of you in the Western World where Christmas has a tendency to overindulgence of many sorts.. there were some wonderful parallels to be seen here.. no hangovers, no unwanted underwear and socks, and no stuffed refrigerators full of excessive amounts of leftovers to be eaten for days after the Christmas overkill.  Just sore feet from dancing so much.. it was fun.. and we will do it again soon!  No need to wait until next year!