Lakshya Youth Camp 2013
Join our Youth Camp for 10 – 25 year olds for a revolution in learning for life skills, exam skills, self esteem, creativity and confdence.
Update:  Our Camp is of course over.. it was a wonderful success – with fun and games and wonderful learning of over 400 children.  We will hold another camp next Summer – watch out for the news of that.
We have an amazing residential program planned for this 7 days of fun and learning for children and youth from 10 years to 25.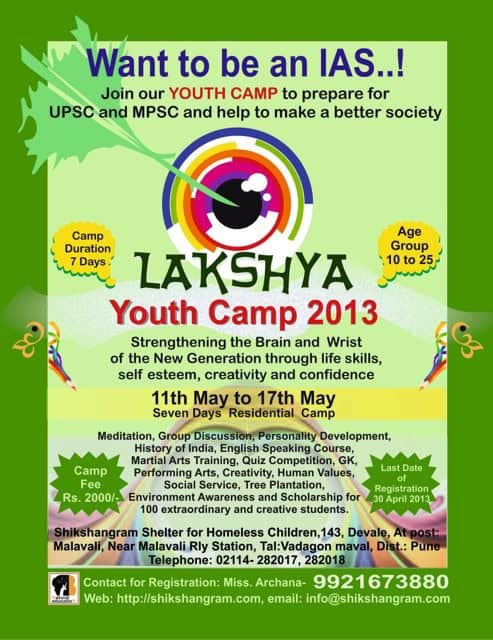 Our wonderful line up of overseas guests and presenters included:
– dubbed most Dangerous Man on the Planet by National Geographic's Fight Science –
he will teach Life Skills from a very unique perspective!
Mr Adrian Piggott – team builder – trainer – specialist in the field of bringing people together to pull as one.
And we also have some very special guests from our Mother India.
Umesh Perwani – Bollywood actor, director and writer who transformed his own life in a matter of a few short months – he will assist you to understand how to transform your life into one which you will love to have.
Shifuji – Shaolin Kung Fu Master .. he and his team have many wonderful skills to share with you.
Stay tuned for more!!
To Register: Please call 9921 673880
or contact us via the form below.
Full payment (Rs 2000) required on registration either by cash or direct transfer to our bank account.
Details as follows:
Bank of Maharasthra:
Account Name: Naisargik Shikshan Sansthodhan va Prashikshan Sanstha
Branch:       Karla
Account No: 2025 9930 373
IFSC Code:    MAHB 0001110
Don't miss this opportunity to come and join this wonderful Youth Camp – you will have fun,learn a lot, make new friends and gain skills that will serve you for your life.
VOLUNTEERS WANTED!!!
If you would like to join us as a volunteer we have a limited number of opportunities to be with us.. please fill out our Volunteer Registration Form here and submit it to apply to come.