We are constructing a new building on land that has been donated to us by a member of the Lions Club.
This project is well under way and additional funds are urgently required in order to complete it.
Much has been done.  And this update as of October 2013 is to share our progress and also to let you know what further requirements we have in order to complete the building:
Our current requirements are now as follows:
1. Kitchen – completion of construction, finishing and provision of full equipment. Area 900 sq feet – Rs: 10,00,000.00
2. Dining Hall of 2400 sq ft construction, finishing and provision of equipment. Rs: 12,56,000.00
3. Roof 7000 sq feet steel – Rs: 13,71,000.00
4. Study and library hall construction, finishing and equipment – Rs: 12,56,000.00
5. Access road from Devale Village to Shikshan Gram 600 mtrs – Rs: 5,00,000.00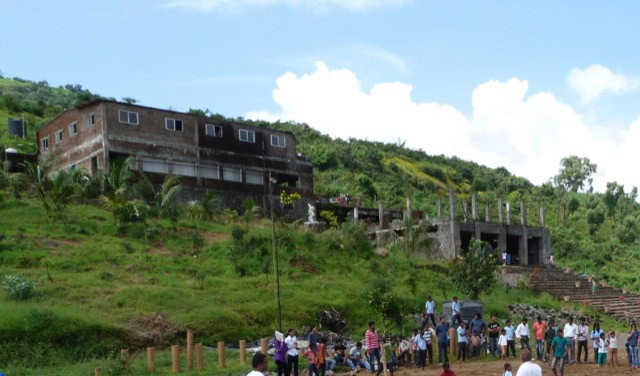 Our  children are already living here and our girl's home is also in construction. Once the building is completed much current expenditure can be saved as the new site planning includes many advantages and promises to assist the shelter to become far more self sufficient.
To date for the building fund we have raised the sum of Rs 90,00,000.00 from our few regular donors in Pune and Mumbai and others to whom we are most grateful.
The rapidly rising costs of building materials have placed a great strain on our ability to complete this project and although much of the hard work is done by hand with low cost labor, assistance to realize the completion of this project is urgently required.
Assistance with the completion of the construction of new premises: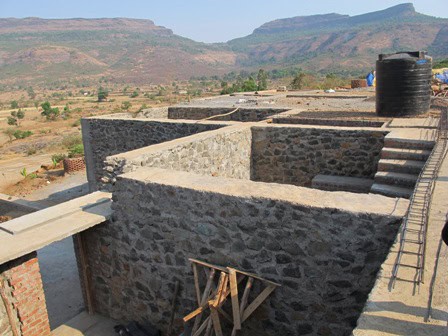 You can support us by contributing to our Building Fund – our immediate requirements are detailed above.
Alternatively if you have connections within the construction industry any donations of building materials would be extremely valuable to us.
Eg: steel, cement, bricks, sand, sanitary fittings, electrical fittings, tiles, flooring, paint, timber for finishing, window glass, and furniture.
We are also in urgent need of a vehicle for transport of both our workers and equipment – a four wheel drive would be wonderful as the track to the construction site is not yet sealed and it is very rough.  Assistance with the purchase of this would be most welcome.
Please contact us if you are able to offer support.