The monsoon rains are still with us today.. the land around the new Shikshan Gram site is vibrantly green – and the crickets are screeching their legs together.. seemingly in joy for the steady beat of the huge rain drops.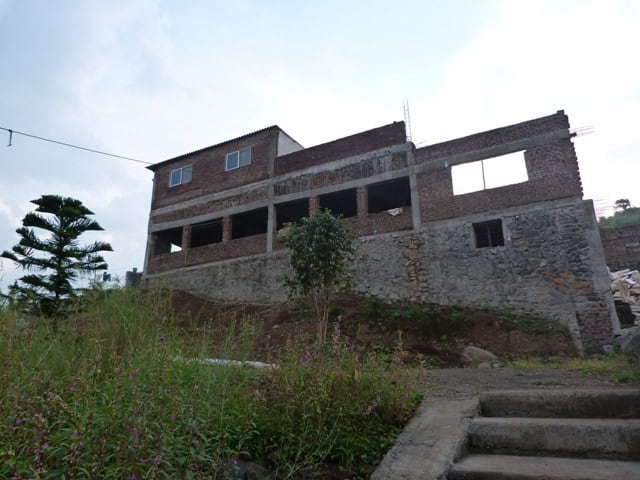 A couple of them came into my room the other night – uninvited because as they started their racket neither Satish nor I could hear ourselves speak!
Since I was here last in April – the building is almost unrecognizable .. it has grown so much .. and perched right on the top they have built the guest house for me. Including a bathroom with running water and a flush toilet!
What a luxury ..and what joy it was to return to a welcome that overwhelmed me.
The place is buzzing with energy .. thirty young people are living and working here.. training to become Black Belt Karate Masters – and to support the Strong Village Project – the far reaching vision of Satish that sees the possibility of working with the children of the rural villages to educate them, and give them role models that are strong, healthy and respectful to their rights as human beings.
You will be hearing much more about this project in the coming months as it comes to fruition.
And so I have returned home.. to my Indian family … who live the principles that they teach.. that of respect for all human beings and teaching and living by example. It is with great gratitude that I write today as it is rare to have an opportunity to live and work in a place that is so filled with laughter and joy while going about the work that is here to be done with selfless and total commitment. That commitment is seen in every face and and in the energy they put into every task that is presented.This young man had just  completed the gruelling workout required for the grading for brown belt from his
Karate Master Sensai Aryabal – 2nd Dan Black Belt.
Being students of the Shaolin Temple in the Shaolin Martial Arts Training Project is not easy.. they are up at 5.30 .. for a 6am meditation followed by sometimes as much as three hours intensive work out on the training ground.. and then they work on the building project.. these young people are amazing!  They are our future leaders.
Watch this space!!