The Shaolin Masters have arrived in India.
The Pune Mirror has covered the Shaolin Masters from China at Shikshan Gram.  Their article which is worth reading can be found here.
The Shaolin Masters are here to work with the 1000 children from all over India who have gathered together for a Shaolin Summer Camp at Shikshan Gram.  They will also be inaugurating the construction of the Shaolin India Temple which will be built at the site of the new Shelter.
This Shaolin Summer Camp has been the vision of Satish and Yogita Moon.. who have worked ceaselessly over the past couple of months to bring this wonderful event together.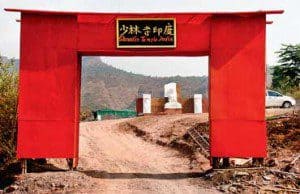 From tomorrow 11th May – the Shikshan Gram Shelter will become a place of celebration, high activity and an experience 1000 underprivileged children will never forget!
I am here in Australia and I can feel the excitement from here!!
If learning Kung Fu from the real Shaolin Masters is something that you have always wanted to do – your opportunity is coming.  The Shaolin India Temple will be opening for live-in  residential Kung Fu Shaolin Training within the next few months.  They will take both Indian and International students.  It will be a training that will become world renowned.
Let the games begin!!!