There are many ways you can get involved and they do not always involve giving money.
Your time and comittment on a regular basis is as much appreciated as a cash donation.  With so many children to care for you can imagine all of our staff and volunteers are fully occupied and there is always more to do.  From helping out in the set up of systems for staying in touch with our donors, to guest teaching spots, training our children in basic hygiene and self care.. or just spending time with the children and sharing your love is a very valuable contribution.
Of course, we are firmly focused on creating a sustainable future for ourselves.
The plans are in place for an organic vegetable garden, with a surplus overflow for sale.  250 fruit bearing trees have already been planted – and from these we will both feed the children, the staff and be able to onsell to bring in much needed funds.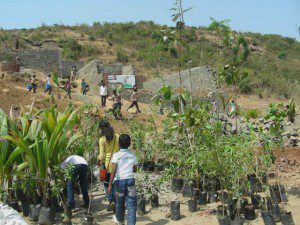 You could help in our garden if you don't mind getting your hands dirty! Check our other plans here.
Other projects to create income for the children and their education are in process.  However all of these things take time and in the meantime, we are almost entirely reliant on the assistance of others.
So you can see there are many ways in which you can help and they do not all involve giving money.
Assistance with gathering clothes, or other useful hosuehold articles, books that are no longer required by your children, or perhaps toys they have outgrown?
Of course funding is needed on an constant basis as the children have to be fed, clothes and nurtured as well as the all important aspect of education.
How Can You Help Financially?
We would be most grateful if you would consider supporting us in one or more of the following areas:
Sponsorship of a child: Rs 36,000 per annum.
Gas and cooking fuel: Rs 30,000 per month.
School uniforms: Rs 120,000 per annum.
Educational aids such as school books, bags, stationery: Rs 260,000 per annum.
External school fees primary and high school for 45 children: Rs 96,000 per annum.
Health expenses including routine medical checkups, medicines & vitamins, doctor's fees etc: Rs 60,000 per annum.
Dental expenses: Rs 60,000 per annum.
Groceries – Rs 120,000 per month.
Vegetables: Rs 30,000 per month
Electricity Bill:  Rs 15,000 per month
Milk: Rs 30,000 per month
Staff Salaries: Rs 123,000 per month
Student personal needs eg haircutting, soaps, toothpastes body lotion etc Rs 5,000 per month
School bus fuel:  Rs 12,000 per month
Sanitation needs:  Rs 2,500 per month
Transport costs – for transport of in kind donations – Rs 10,000 per month
Building – electrical – plumbing maintenance: Rs 160,000 per annum
Vehicle maintenance Rs 15,000 per month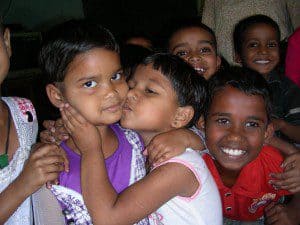 Of course all of our children are special.. we know that – wouldn't you like to be a part of this family?
It is easy to fall in love with these children –
it is easy to spare a little to care for one of them –
and the rewards of doing so will astound you.
If you are living outside of India and would like to support us, we are partnered with the Sage Foundation and Buy1Give1 and through these organisations we can receive assistance from you.  To contribute through this unique way of giving please see more here.  Otherwise you can now donate directly to our bank as we have the FCRA permission.  See the bank details on the right side of this page.  Or please fill the form below and we will advise you on the easiest channel to support us through.