Our Litte Buddha Natural School is brings education to the underprivileged.
Schooling and education is often a totally unknown subject and experience for orphaned or street children.
It is a challenge to bring them into the education system and school environment. With our knowledge and experience we created a joyful and creative education system, which is our Natural Education System, to help overcome these issues. This very effective teaching model shares issues of morality, life values and many other important basic life skills.
For the past 5 years we have run the Little Buddha Natural Education School with the support and permission of the Education for All Movement run by the local government.
The main aim of the school is to provide a basic introduction to learning and education preparing them with knowledge of reading, writing, mathematics, basic science and confidence to work in groups.
Our unique curriculum consists of farming education, communication skills, maths, experiencing science, literature, mind training, discovering the environment, travelling, marketing and business skills and martial art training.
[slideshow id=5 w=540 h=380]
_______________________________________________________________________________________
Anil's Story: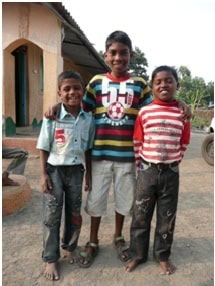 I am Anil, and I am 8 years old. I have 2 brothers one older and one younger and I had an older sister.
My father was a chai wallah (tea seller) on the trains and my mother collected recycling rubbish off the streets to sell. We lived in a rented hut on the corner of the railway station at Pimpri. My sister got married to a Punjabi man who was a driver. I was 4 years old and went to nursery. I liked school very much.
One day my father fell from the train and was killed. After this my mother became very depressed and began to drink heavily. To help out my sister returned from her new home with her 8 month old son Rohit. My sister began collecting garbage and recycling to help pay for the family's needs. One day my mother drank so much that she collapsed and was taken to hospital were they discovered she had liver failure. She died there shortly afterwards.
My sister struggled to get enough money from garbage collection to pay for food and rent. We could not afford our hut and began to sleep on the railway platform instead. I also had to stop going to school. My sister saved as much money as she could until we could afford a small hut. Shortly after this she found out that her husband had been killed in an accident and fell into depression. She too started to drink heavily. She lost her mental balance and would regularly argue with neighbours and local people. One day she was collecting water from the local tap and had a big quarrel with local people. Very upset she returned to the hut, poored kerosene over herself and set light to herself. She was taken to hospital but died there. Before she died she asked us to look after her son Rohit.
This left me, my two brothers and my young nephew. A local garbage depot master Mr Datta Pawar was a good man and gave us some shelter. He also gave us food in exchange for collecting recycling.
One day Mr and Mrs Moon arrived from Shikshangram school and hostel to talk to Mr Pawar for a long time. The next week Mr Pawar took us to the Malavli Hostel for children. Me (8 years old), my younger brother Sunil (6 years old) and my nephew Rohit (4 years old) were accepted in. My elder brother decided to stay at the garbage depot working for Mr Pawar.
At first we were home sick but Mr and Mrs Moon loved us so much and they provided everything for us. We are very happy here now.
Now I go to school every day. I am in 5th standard. Every year I have achieved 1st rank. I recently won a merit scholarship in the Maharasthra regional talent search. When I grow up I want to be an engineer. I promise you that I will work and study very hard to achieve this.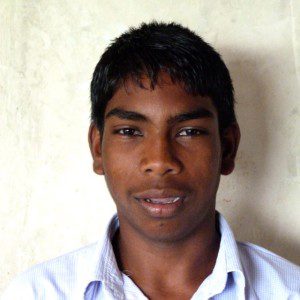 Here is the latest photo of Anil.. he is growing in leaps and bounds and it now a very responsible 15 year old.  We are so happy to have been able to give this boy our support.  He continues to show us that the effort is completely worth every moment of it.
Because of your help our organization is able to help children like Anil and his family who are orphans. They can progress and develop only because of your help.